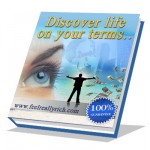 Review:
by Mike Mott
Mike's great new book is perhaps one of the easiest reads I've had in a ong time on the subject of Life enhancement – and believe me, I've read a lot! The trouble with most books on this subject is that they usually contain in excess of 300 pages, which, when you're busy can take an age to read and digest.
This valuable and life strengthening book is succinct, interesting, and well thought-out but with good sound and sensible advice for the non-professional. It is immensely persuasive and for many this could be just the motivational kick start you need.
Each chapter focuses on a part of your life that essentially needs to be addressed in order to bring about 'whole of life' change. Other books written usually concentrate on one aspect of change – either the mind, or the body, or the soul.
The practical recommendations in Discover Life on Your Terms are inspiring and you don't need to have a fortune in the bank, to become vegetarian or even wear orange and a leotard! It is for anybody who sees themselves in a rut or going through a difficult period in their life. You can literally change your life for the better if you are willing to put these positive instructions into action.
Thank you for sharing this with me, Mike.  Anyone who reads this will benefit greatly from your wisdom.
Kathy
2 Responses to Discover Life on Your Terms