Last week while doing a little research in Clickbank, I bumped into a wonderful site that I would like to introduce you to.
Chris Farrell Membership.com. Being the ever curious type I poked around a bit and discovered that I had hit on a bit of a goldmine.  This membership site is a complete resource for those serious about creating a regular and continuous income online.  Chris himself is very much evident on the site and introduces himself via video.  I was immediately comfortable and curious about this rather spunky, feel-good kind of guy that I got great vibes on.  Somehow you just come away knowing this person is genuine and cares about your success.
Here's some of what you get with membership:
Free unlimited webhosting…unlimited bandwidth and disk space.
Exclusive rights to give away "Create Your First Website by Three this Afternoon…the ebook"
Exclusive rights to use the exact website that has built Chris a list of over 15,000 in just over a year.
Free techie help…worth $50 an hour
Free immediate access to "Create Your First Website by Three this Afternoon…the videos….43 videos spanning 6 hours.
Free access to the lively forum
over 320 how to videos…all by Chris
Fully downloadable library
The list goes on and on…just too much to list here.  I was very impressed with the list of  quality free item's and services available to members.  Of course I went in and checked the forum out too…it is, in fact, a very active forum with Chris' participation.
The thing I liked most, and one of the things that kept me there was his attention to the newbie.  Although there are a lot of membership sites out there that mentor people to success, a good deal of these are for those already somewhat in the Internet game.  So many of these sites think they are addressing the newbie, when in fact they gloss over so many details in their videos that simply leave the newbie more confused than ever.  The videos on this site explain everything in detail.
Along with Chris, there are two founding members that also contribute on a regular basis.  Dave Hardin is the resident writer/copywriter with excellent credentials.  Dave has also written for some of the most successful guru's out there.  I wanted to see how accessible Dave was so I dropped him an email.  Within the hour I received an answer…I was impressed. Although Dave is busy finishing a book and is not taking on any 'article writing' projects at present, he offered to edit my articles (he even offered to rewrite a few!) and help me construct them correctly…with tips and strategies…all for free because I was a member.  Remember, at this point I've only paid $4.95 for the trial run.  I thought that kind of attention was phenomenal!
Besides being a Platinum Ezine Expert Author, Dave has been awarded the oDesk Top Writer Award.  This award signifies that the author ranks among the top 25 out of 250,000 providers based on successfully completed assignments, hours billed and feedback from clients.  Here's a person who just offered to rewrite a few articles for me for free!  Dave's most recent project  "The Ghostwriter Goes Public" is being released and with this link you can get it at a special 'members price' even though you are not a member.  The price will go up $20 when it goes public.
The other very important team member is Jeff Hope…better known on the site as "Jeff the web guy."  Jeff is their techie genius and is willing to help you with any project/product that you may be struggling with.  I haven't been in contact with Jeff yet, but his credentials are impressive.  Jeff's been a web user since 1993 and building websites since 1995 and a web programmer from 1997-2001.  He lives and breathes online marketing and is happy to share his knowledge with members.  He is also active on the forum.
I am sure you can see by now why I was impressed with this fairly new (started in 2009) membership site.  But, the best way for you to see if it is a good fit for you is to head on over to Chris Farrell Membership.com and watch the free videos on "A Successful Web Business Explained…Step by Step."   This is a 26 video set (five hours of video) with a value of $197 and you can watch for free.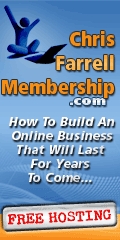 The combination of Chris and his enthusiasm and desire to help others succeed online, Dave's incredible credentials as a writer and Jeff's equally impressive credentials as a techie guy are all great reasons to be checking out Chris Farrell Membership.com.   He offers a 14 day trial run at $4.95 with recurring billing at $27.00 a month.  If nothing else, head on over and watch the free videos…he doesn't even require an opt-in to view them!
Let me know what you think…
Kathy
One Response to Membership Site Gold