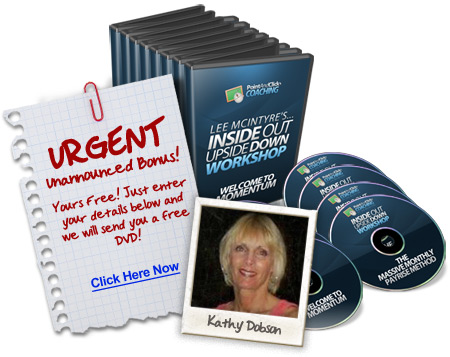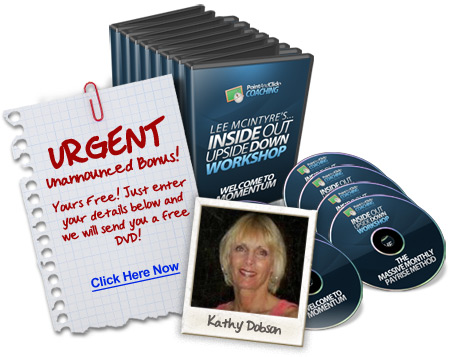 Wow, this has been a busy year so far! Thanks to a dear friend Dawn Kay  (who has awesome blog by the way: Dawn Kay's Internet Marketing Blog )  this fabulous course "Inside Out-Upside Down Workshop" by Lee McIntyre was brought to my attention. Lee is offering…for FREE…his entire workshop that most everyone there paid nearly $1000 to attend. He has bundled it up into video course that you can get absolutely free…the only cost to you is shipping which is $1. Most of us can afford $1 to gain access to this workshop that has the potential to turn your otherwise 'lifeless' Internet marketing business into a thriving channel of income for you.
Additionally, should you fall in love with Lee (ok…he's an awesome teacher) and the system he teaches on his videos you can sign up to take his ongoing coaching course. With this course you receive weekly lessons…all taught through easy  to follow and implement videos.
Internet marketing is a very hot topic and wannabee teachers are surfacing everywhere…. but only a handful of them really know how to teach and get their proven system/ ideas across to others.  Lee is one of those people. For those not familiar with Lee, his is a fascinating story of a burned out school teacher who rose to the top of the Internet marketing game in just a few years. Lee's background in teaching sets the table for his ability to teach Internet marketing so successfully. Furthermore, Lee's ability to motivate you into action is worth your time alone.
Whether you decide to continue on with the course or not you'd be crazy not to grab those "Inside Out-Upside Down" videos while Lee has made them available to you for $1. I mean at that price he could pull the offer at any time. Believe me when I tell you that these workshop videos are loaded with information. Every video I have watched is nearly two hours of the most valuable information I have come across in my Internet marketing journey so far….and, there are eight of them!
For some of you, the videos themselves will be enough to satisfy your need. For me, I was hooked and wanted to continue to learn with Lee and his "Point and Click Coaching" as he sends weekly lessons (all taught through video of course!) leading you to the ACTION steps you need to take to implement all that great info! They go hand in hand…the perfect compliment to one another.
But, don't take my word for it. Check out Lee's Workshop videos for yourself .  Not only will you get a hard copy through snail mail…but, right after you sign up you will receive access to these videos online. For anyone as anxious as I was to get going this was the icing on the cake!
So, here's to a fabulous start in 2010! I have settled in with a new teacher/mentor (your quickest and surest way to success online)….Lee McIntyre and his Point and Click Coaching Course. I'll be posting a lot of what I learn along the way so if you haven't already, be sure to sign up to my blog at the end of this post or to your right on the sidebar.
By the way, the cost of the ongoing course is billed monthly…and the most comforting thing is you can opt out at any time and you will not be billed again. This is highly unusual for courses of this magnitude. Normally you would have to purchase the whole course upfront so regardless whether you finished it or not you paid for the entire course. With Lee's option, you pay every month you want to continue to learn and have the option to opt out at any time.
Before I forget to tell you, there is a free two week trial period attached so you can see first hand what's inside his ongoing coaching. This gives you the knowledge you need to make a wise decision  😉
I don't know if you can find another course…offering this kind of priceless material…with that kind of offer.
Most likely if you are reading this post, you have a passion for Internet marketing as I do. If I can give you one piece of advice that I feel would put you on the right tract as 2010 begins it would be to find yourself a great mentor/teacher to learn from. It is your surest and quickest way to success on the Internet.
The reason I promote Lee is that his philosophy is to "over-deliver" …beyond what is expected…at all times. He not only teaches the philosophy but he LIVES IT!
Grab those vidoes…and then come back and thank me for making you aware of them!
My goal for 2010 as I continue on my journey into Internet marketing is to pass onto you everything I've learned that contributes to my success. My success builds as those behind me become a success…and so it goes…on and on 😉
Peace and Prosperity in 2010!
Kathy
p.s.
As you watch the videos check out all the powerful marketers in the audience…most likely you'll recognize a few.  Do you think they know something?! If they paid to attend and set aside a whole week-end for this event, maybe we should sit up  and take notice!
8 Responses to Point and Click Coaching by Lee McIntyre