Micro-Job Sites are evolving folks. What probably started out as a half-baked idea in someone's mind has now morphed into a legitimate way of outsourcing online projects as well as many offline and silly projects.
Fiverr started the true "fever" and it didn't take long for these Micro Job sites to start popping up all over the web. The original idea was for people to list "whatever it was they were willing to do for $5."
All it takes is one wildly successful online website/idea and entrepreneurs see ~~~~~Opportunity~~~~~
Creative entrepreneurs quickly got programmers busy creating the cloned Fiverr scripts that they knew would soon be in high demand.
They knew they could make money with these scripts…either selling them as clones or setting them up as a business platform for themselves. Entrepreneurs have a nose for these kinds of things...or maybe they're just paying attention 😉
Ever thought of starting one of these sites yourself? I have…and I am still seriously considering it. I noticed that Jeff Mills of outsourcing fame has his own site that recently opened the doors called "Seven Stew." This site is totally dedicated to Internet marketing and related tasks.
Whether you are a fan of Jeff's or not, you can't deny that the guy knows how to make money online…and, if he jumped into this game then I believe there is big money potential.
Here's where you can find the clone scripts if this idea gets your creative juices flowing. 🙂
Agriya script: The most popular and used clone of Fiverr, they recently released their Ultra Platform which has the ability to make automatic payments to the vendor…something lacking in other scripts.
I even found this site offering a Fiverr script: (this site is set up with a timer for the "gig of the day.")
As the scripts were being hurriedly cloned and created (all jockeying to be the first released) business entrepreneurs across the globe started "Googling" …"Fiverr clone script" looking for a script to copy the success of Fiverr.
It was not hard to see 'opportunity' for those with "eyes that see."
You know what they say…
"….build it and they will come…."
and so they did.
and, so they are… 😉
And the Fiverr fever continues to evolve and is really just in it's infancy.
The quick popularity of these sites set a flurry of imagination into action from hungry entrepreneurs…worldwide…as they expanded choices to include much higher price points…which in effect gave them the ability to offer much more complicated services that take longer to complete.
No longer are you limited to gaining followers on Twitter or Facebook…or buying backlinks, articles or blog posts.
You can now legitimately order services such as a customized 10 page website built for you personally for $250.00.
For example, I recently received a very nice email from the owner of Website Marketing HQ, Sandip, who had seen my recent listing of Fiverr site clones. He introduced me to his new site that just recently opened the doors.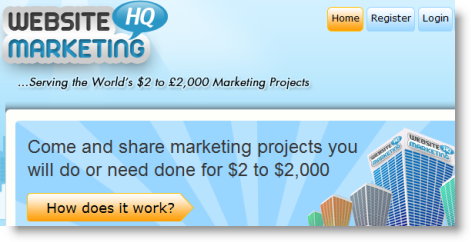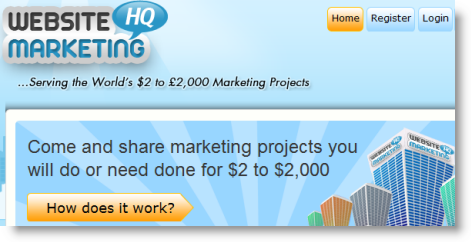 Funny because I had just finished writing a new report…actually it is a directory…of all the Micro Job Sites that are alive and active online (110 so far!) and I distinctly remembered this site. (I will be putting a link to my new report on this blog soon)
As the owner states, "the site differs from other fixed price jobs sites as, we only focus on website marketing projects."  I really like that and would frequent this site for that reason alone.
Working online has caused me to think in "niche" terms all the time and I honestly believe these marketplaces that are scaling down into a definitive niche will be highly successful.
This is also one of the newer sites that has expanded their horizons to include higher price points. You can order/offer services here from $2 to $2,000.
An added feature that Website Marketing HQ offers is the ability to rate someone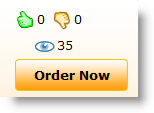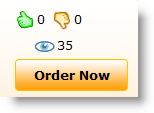 with a "thumbs up" or "thumbs down" right next to the service offered and right on top of the "Order Now" button.
Such transparency should keep things upfront and honest and make it easier to find the cream of the crop and avoid any losers that may be lurking.
As many of the Micro Job Sites do, Website Marketing HQ uses the Agriya script...the new Ultra Platform that allows automatic payments to be made through Paypal.
If it's not automated…I don't want it 😉
By having higher price points, these sites are attracting vendors who can offer services that simply will not fit into the lower price points previously offered.
This allows anyone wishing to make money on the side with a specialized skill, to offer it on one or many of these higher price point sites and make much more in commissions than they could from offering a $5 skill.
There truly is something for everyone now. 😉
You're only going to see more of these…with new creative variations becoming available as the concept continues to evolve.
You gotta love the ~~~entrepreneurial spirit!~~~


Fun Fact:
Zeerk.com another Fiverr clone that opened it's doors in July of 2010…sold on Flippa in November of 2010 for $52, 500. That's a sweet profit in just a few months. 😉 But alas…it has had problems since…with two failed auctions at Flippa that produced a mere $19,000 as the high bid.
Gigbucks.com, a Fiverr clone sold on Flippa for $5,500 back in August which seems a much more realistic price for a site that can easily be set up with a cloned script for under $1,000.
Price to launch a Micro Job Site is different for everyone depending on what script you buy and what adjustments/adaptations to the script you want to make.
I believe the Agriya script was selling for $1,000…not sure that includes the Ultra Platform. Any revisions cost extra.

35 Responses to The Evolving Micro Job Sites and Scripts