Saturday, May 23rd, 2009 at 1:17 pm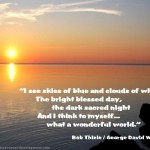 How many of you are sitting on unrealized dreams?  How many great ideas and dreams of success have you had that  never materialized?  There is a Universal Law that applies to success….the one single thing that will manifest our ideas and dreams, and without putting this law into effect, our ideas and dreams remain just that……ideas and dreams.
This simple but necessary rule is the Law of Action.  We must first understand that we live in the physical world and must play by the rules. In this physical world of ours everything is vibration.  Take everything back to it's humble beginnings, strip it of it's physical properties, and you have vibration.  How did it become a physical reality?  Someone took action and created it.  That chair you are sitting in was an idea in someone's mind and would have remained an idea…but, someone took action and manifested it in the physical world.
Everything physical is energy,  energy is vibration and vibration is movement.