Today I am going to set aside all those bargain basement outsourcing sites to write a post about a new site that I recently joined called Internet Marketing Apprentice.
Internet Marketing Apprentice is a joint venture between Randy Smith and Craig Dawber…two experienced and successful marketers themselves.
I've known Randy some time now as I've been a member of his other site MoreMonthly for quite a while.
In my opinion, Internet Marketing Apprentice was a natural progression for Randy. Although MoreMonthly was a great site that included an awesome forum, IMA is much more inclusive and is truly a goldmine for anyone starting out online who is looking for direction and personal help… as well as those of us who have been at it for a while. You just never stop learning in this game.
Some of what you will find inside:
Free Web Hosting: That's right. If you've been wanting to get your idea up online this is the perfect place to start. Randy and Craig will host your non commercial site for you free of charge. This alone will save half your monthly entrance fee to this site 😉
Tools: This list continues to grow and includes a great free link cloaking tool.
Downloads: Just as MoreMonthly offers, you get files pds and programs inside that are totally free to you. There are fresh additions every month with the past months downloads available too.
Private Download Vault: For Members only…files, pdfs, and programs as well as other material that Randy and Craig are sharing with members.
Craig and Randy's Useful PDF's: Here you'll find a wealth of information in written form on many different IM topics that will help you online.
Video Tutorials: And, for those of you who love videos there is a whole section on video tutorials from understanding Amazon s3 to HTML for beginners. (you really do need to know just a bit of HTML if you are working online. It will make your journey so much easier…and you can learn that right here)
Marketing:  A whole section devoted to marketing…(here's a screen shot of the marketing  module: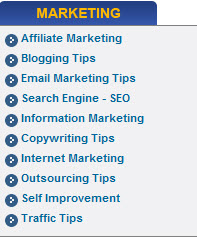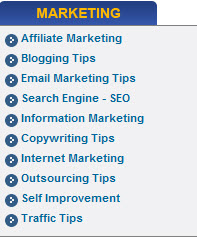 As you can see, it's all inclusive and any extra help you need…you head to the forum and grill the experts 😉
Now for the best part of the membership…
…the forum. If you've read on my blog for any time, you already know how I feel about networking. Forums are one of my favorite places to network but this forum is special beyond that.
Not only will you join a forum that is helpful in every possible way, but you are joining a genuine group of marketers who are there to help and to learn. They will be the first to answer your questions or throw you support.
It almost feels like extended family inside. The IM ride can be turbulent at times and …having a place to go for support is priceless.
They also offer a nice affiliate program that you can join.
Honestly this is a one stop shop for all your Internet marketing needs. You could go and spend a lot more monthly to get the kind of education you'll receive in Internet Marketing Apprentice and you won't find a warmer forum to thrive in.
So, if you've been searching for a place that will work with you…(you still have to take those action steps)…then give Internet Marketing Apprentice a go.
I have no doubt in my mind that once inside you will find the value far exceeds the monthly fee.
Not sure this is their motto but I did find it boldly written inside:
"You Can Have Everything In Life That You Want,
If You Will Just Help Enough Other People Get What They Want."
I'd say that sums up Internet Marketing Apprentice quite nicely 😉
Do yourself a favor and check it out yourself. You can get a full membership for an entire 7 days…with nothing held back for only $4.95. This allows you to go behind closed doors and find out for yourself what a value this membership is.
Hope your week-end is lots of fun…
USA tax deadline on Monday…ugh…

Fun Fact:
Here's a list of the top 10 publicly announced domain-name sales that involved all-cash transactions and resulted in the domain names passing onto the buyers, according to DN Journal:
*Sex.com – $13 million (2010)

Porn.com – $9.5 million (2007)
Diamond.com – $7.5 million (2006)
Slots.com – $5.5 million (2010)
Toys.com – $5.1 million (2009)
Clothes.com – $4.9 million (2009)
Vodka.com – $3 million (2006)
Candy.com – $3 million (2008)
Shopping.de – $2.8 million (2008)
Creditcards.com – $2.7 million (2004)
19 Responses to Internet Marketing Apprentice…A Great Choice