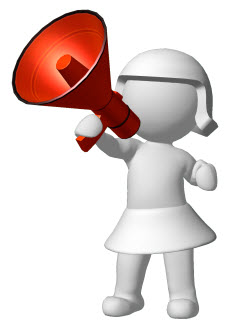 As I said in my previous post on blogging experts, being interactive is something I am going to implement on my own blog a lot more in the future.
Pictures, contest, surveys…I am going to incorporate all of it.
It's a way for others to join in and that's creates excitement and fun.
So, with that in mind, I sat for days wondering how I could incorporate a contest into my blogging. I had a great gift set aside…actually a few of them…it was just a matter of coming up with an appropriate contest that excited others enough to get them involved.
I've been working on a blog makeover lately. Haven't come up with any particular design…that will come but I need ideas for a bi-line.
Bingo…I suddenly realized that I had the perfect audience to help me out 😉 😉
I'll let my blog readers help me out. They are brilliant, they know my market, they know me, they love to help and they are somewhat craaaaazy….at times. Exactly what I was looking for.
Here's what I need:
a bi-line representing me. Could be anything from a famous…or non famous quote that you are particularly fond of or that you think applies…to a short branding and description of what I represent such as what you find on Nikki's blog header:
I am a marketer…yes. I love outsourcing and writing about it but I also love teaching people about blogging. And, if you've read much about me in the past…you know I am all about FREEDOM…
And, as most of you know, I am highly spiritual. I used to try and keep my spiritual "bend" outside my blogging…but that is a thing of the past.
Part of my new platform is to be authentic…totally transparent. It is very hard to keep my metaphysical views from occasionally finding their way into my posts.
So, from this day forward…if I am not anything else…I am authentic 😉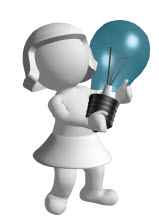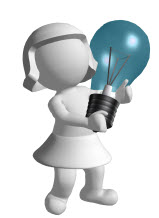 So, give me ideas…don't make it hard. Have some fun with it…
Leave a comment on this blog post and you will be entered into the random drawing. Any comment…even about the contest.
Leave me ideas in your comment and you will be entered into the second contest where I chose the winner….both will officially end on  midnight of August 4th  EDT.
The winners will be announced on August 5th. Simple as that!
The first winner will be the name pulled randomly from the list of all names that commented….this way everyone who comments gets a chance to win.
The second winner will come from my personal favorite…I know this one will be hard but it gives me a chance to give away another prize…based on effort and creativity alone. I want those juices cooking and for those inclined, this will give them incentive.
Two contests…two winners.
I may or may not use any of what is submitted. That's not the purpose of this contest.
The purpose of the contest is to get ideas…things to draw from.
If one happens to strike a cord strong enough…it just may end up on my blog header 😉
You have nothing to lose and lots to gain by joining the fun.


Okaaaay…that's a great question 😉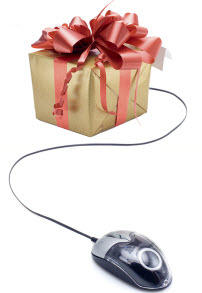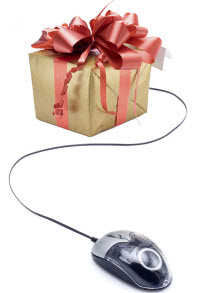 Drum roll please…. 😉


A fully licensed copy of Camtasia 7

. That's right…I am giving two winners a fully licensed copy of Camtasia 7…

Full License to Snag It…great screen capture software!
Wow…zeeeee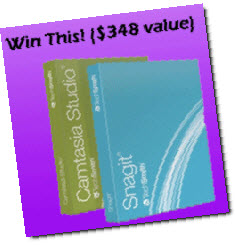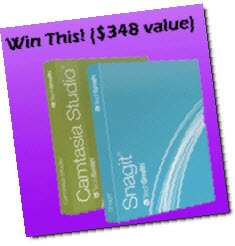 If you already own and use Camtasia and Snag It you know the incredible value of this contest gift. Camtasia sells for $299. and Snag It sells for $49…which brings the value of this prize to $348 per prize.
Camtasia 7 is the premier screen recording and video editing software and Snag It is a tool I use nearly every day when I am online to capture and correct all types of pages and pictures.
Now, if you already own Camtasia 7…that's cool…and even better…
because if you win one of these license's, you can keep it as a second license for a second computer…which we all seem to have these days…
or…you can turn around and give it away in your own online blogging contest 😉
How perfect is that!
Once you win it…it's yours to do what you want…use or give it away.
Ok…get busy…be creative…
leave me a comment …any comment and if you have ideas include them…if not…a comment about the post will do just fine 😉
If you are so inclined…I want all ideas…titles included…whatever comes to mind…even logos! (if you leave a blog comment the first time…and come back later with an idea…leave it…you will be in both contests ;)…and twice in the random contest 😉 More comments…more chances…more ideas…more chances 😉
everyone who leaves me a comment on this blog post will be entered to win… 

Everyone.

a second prize will be rewarded based on merit and chosen by me…

this contest is for those that include ideas.
Good luck to everyone. Have fun!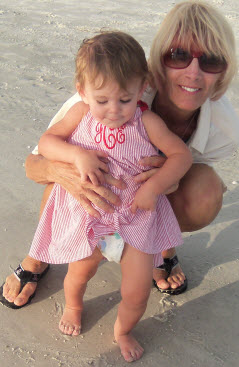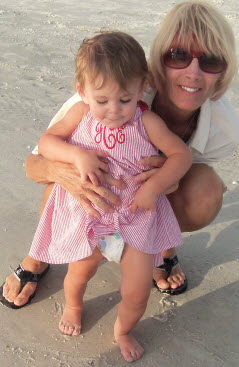 (my granddaughter Juliet and I at the beach over the 4th of July)
Congratulations to the three winners of Sally Neill's blog coaching contest…Nikki, Sarah and Barry. I need to stroke Barry's good luck charm as he has now won in both Dawn's transcription contest and Sally's coaching contest 😉 lol
Alas…I did not win…life must have something else in store for me. 

It's all good 😉 I always go with the flow and trust life without question.
Looking forward to Sally's webinar coming up and if you haven't already signed up for it…you can find a link to do so on her blog.
59 Responses to Join the Creative Fun…Not 1 but 2 Winners!