We all know how important it is to capture the email addresses of anyone visiting your blog that is interested in the content you have to offer.  The best way to do this is to set up an opt in form to capture these leads. This is called your "list"…and, without a list, you have no one to mail to when you have a special offer…free or not.
Today I was introduced to a new FREE product by MaxBlogPress called the MaxBlogPress OptIn Form. What I really want to know is:  where was this product 7-8 months ago when I was trying to create an opt-in box for my blog? 😉 It really was a source of aggravation at the time.
That's not the case anymore with this new WordPress Plug In.  This plug-in has simplified the whole process to the point where you can do it all from their panel once the program is uploaded to your server.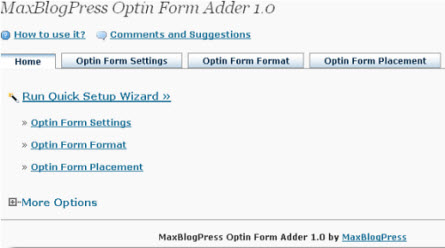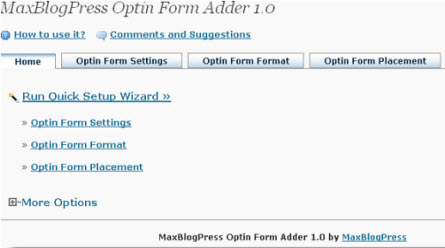 Here's some of the things you can do:
You can style your opt-in form anyway you want
You can place your form almost anywhere on your blog
You can easily switch auto-responders/mailing list providers without starting from scratch!
Easily insert tracking code to track the effectiveness of your optin form
Great text editor too:
Change font, font size, color, alignment of the headline text.
Change font, font size, color, alignment of the body text.
Insert/edit HTML code to both your form's headline and body.
Customize its background color, border color and thickness.
Add a footer below the "Subscribe" button.
Customize the "Subscribe" button.
Brand your form by inserting your personal logo or other images.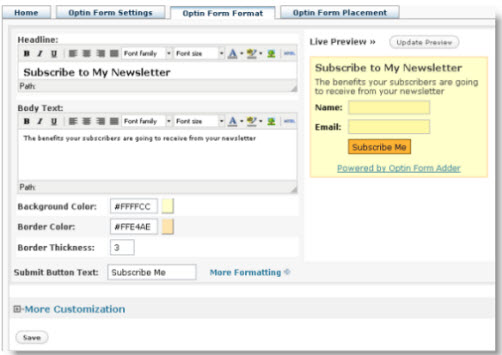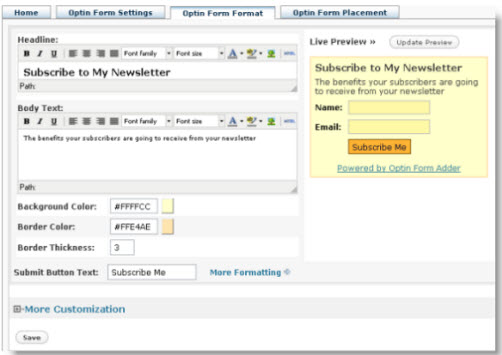 Someone left me a comment and asked if this plug-in works with aWeber. The answer is YES! In step 2 of the process, you go get your code from aWeber and put it in the code box and then hit the "detect button"….and you're set to go!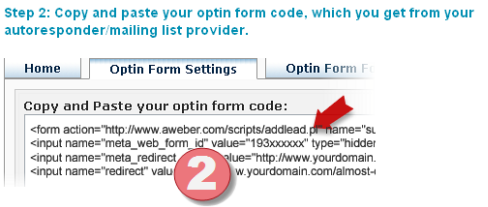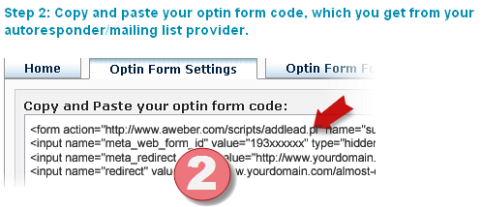 But, rather than try and list everything you can do with this program, you need to go to MaxBlogPress and check it out for yourself. There is a video you can watch…don't we just love to watch those easy to understand videos!
I created this form on the bottom of this post this morning and I was having fun changing the box to blue with white lettering and then back to the present colors. I could also have used my header in the background…I tried this, but my header was not suitable they way it was written. It's a great option though! Additionally, when I tried to place one on my side bar the width would not narrow down enough to fit and the border was over limit a bit. I am sure there is a simple way to fix this too…I just need to spend more time playing with it.
Bottom line is this: there is no reason you should not have a great opt-in box on your WordPress blog with this easy to use plug-in. Way easier than I had it months ago! Remember, this plug-in is FREE!
I love anything that makes blogging easier and this is a gem!
enJOY…
Kathy
7 Responses to MaxBlogPress Optin Form…New Plug In