For any of you using Google Chrome as your browser, I recently discovered a new application that I find I use all the time so I thought I would share it.
Honestly, I am not sure if Firefox and other browsers offer a similar app…I haven't found one…but I may have missed it and if there is one and someone is aware of it I would love a blog comment leading me to the app 😉
I am certainly not familiar with all the apps out there 😉 but this one is so handy and makes keeping notes so freaking easy that I just have to share it.
The name of the Google Chrome app. is: "Note Anywhere"
And, just like the name implies, you can leave a note on any website you navigate to. So, how is that different that any other note application? The note will be there when you navigate back to the site!
This is invaluable to me. Normally once you've clicked out of the site you are on…the note is gone too. But not with "Note Anywhere."
For example…I recently signed up for a trail run on Doba.com with recurring payments of $59 a month after the trail period is over. (I am interested in drop shipping (not so much for myself but my daughter is starting a site).
Many times when you sign up on these sites it is hard to locate the cancel button before they end up charging your credit card or Paypal for services.
So, the first thing I do now when I join one of these trial runs via subscription to a site is to log in and locate the cancel link/button info.
I place one of these "note anywhere" type notes on the page exactly where the "cancel" info is. That way when I check into the site (often times it's last minute with me) the yellow note is staring me in the face reminding me that I need to cancel.
Here are some screen shots explaining what I mean:
This is the page I land on after signing in to Doba…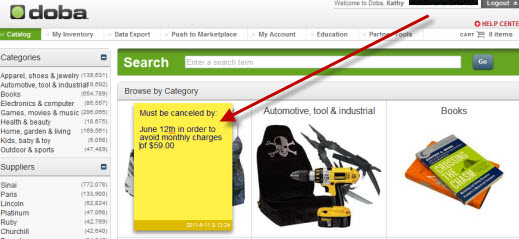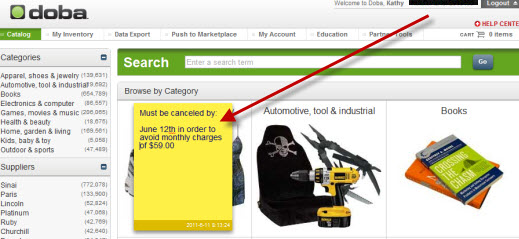 You can clearly see the "note anywhere" that I've left myself.  Every time I sign in here the note is there…front and center for me to see…and most importantly REMEMBER to cancel in time!
Now, taking it a step farther…here is another screen shot inside my Doba account where the actual cancel info is located. To keep from having to search everytime I landed here…or at the moment I need to cancel I placed another "note anywhere" so that I never have to search more than once for that cancel info and I can access it immediately after going into my account.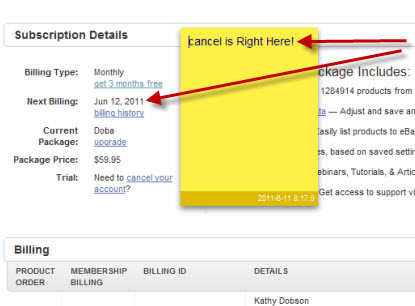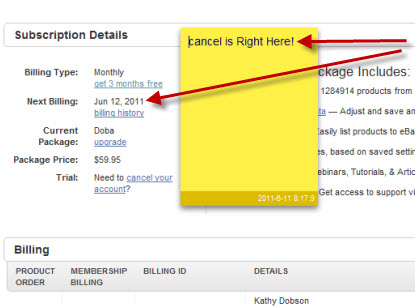 These type applications are priceless to me. I do however wish that this application actually worked to stay within Gmail. In other words, I placed a note on top of my Gmail screen reminding me about my Doba subscription and then clicked out. Unfortunately it does not come back up with your mail.
There is however a way to keep that note attached to gmail. Notes Anywhere automatically creates a list of your "notes" for you and you can easily access this list by clicking the "notes anywhere" icon located next to your browser window.


Click the icon and from the drop down menu click the "options" link. Once inside options click the "notes summary" and a list of all your placed notes will appear.
If you access your gmail account using your active "notes anywhere" link the note you placed will be on top of your mail where you left it. It is not visible if you use another way into your gmail.
Here is a screen shot of my mail with the list on top…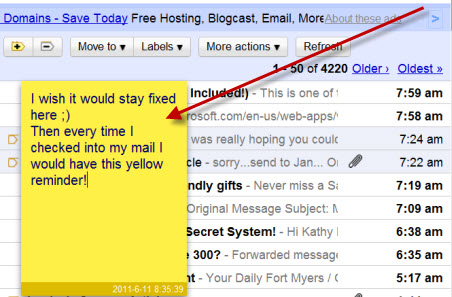 Here are the features that "Note Anywhere" offers:
On any page, you can make a note on the web page…on any position
The notes get saved in real time
All notes can move by mouse: drag and drop (love this!)
When you go to the page again…the notes get loaded immediately
On the logo it shows a badge indicating the note counts of that page
The newer 0.5 version has options to change the style of notes
A notes summary feature so you know where you've placed your notes!
Features that will be added soon:
The ability to re-size notes
A feature that allows you to import and export notes
Sync notes between different computers
***share notes with others***
Here's where you can access this valuable tool:
After adding the app, a little icon will appear on your screen right next to your browser bar.
Right click and you will see menu options. They have made it so easy to disable, uninstall or hide the button if you wish.  Then click the options button and check out the options.
As you can see, they have options for larger text (yeah) text color and background color so you can really taylor this so that it suits you.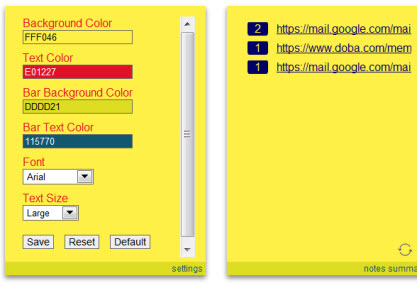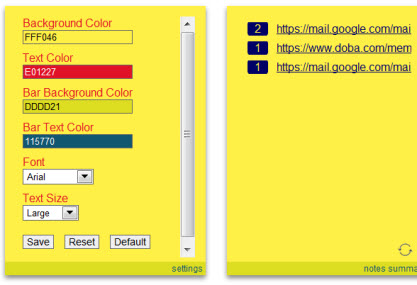 I hope you enjoy using this application as much as I do. Now you will never have to wonder why you bookmarked a certain page! Your "note anywhere" will be there to tell you 😉
Any way I can save valuable time and make things easier… I am all about it!
Love to hear your thoughts!


27 Responses to "Note Anywhere" New Google Chrome App