There's been a lot of "fever" about "Fiverr" lately…the economy/bargain basement outsourcing site where services are offered for $5.00 only.
Fiverr calls themselves "The place for people to share things they're willing to do for $5."
It's easy to see why such a site would take off in popularity as more and more people realize the value in outsourcing and $5 is an amount that is easily affordable.
Here's a screenshot of Fiverr's technology page you can see for yourself some of the services offered: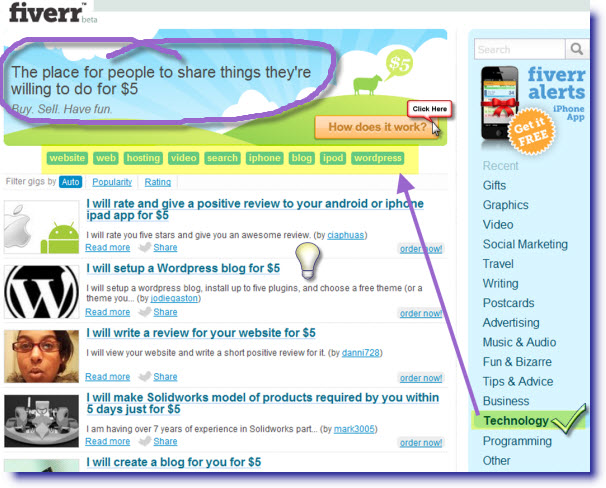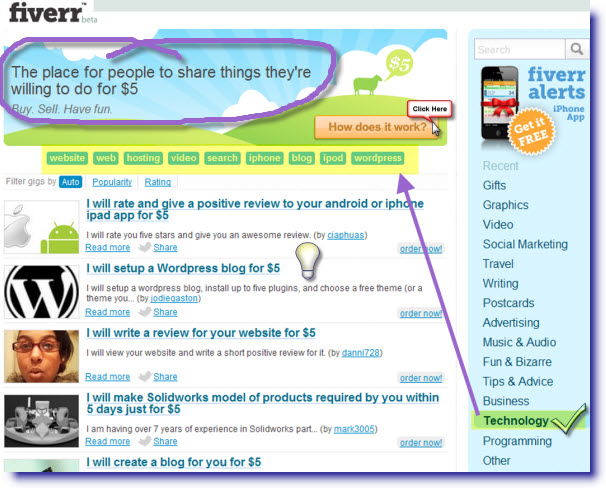 But that's only one area of services you can tap into…as you can see from the menu on the right, you can get everything from programming to everyday tips and advice to making video, writing, social marketing and there are even "Fun and Bizarre" services. (you will find yourself browsing when you have time because some of these services really are bizarre 😉  )
I do know marketers who have used Fiverr for SEO purposes like backlinking and social marketing services like tweets to twitter and building facebook and twitter fans….and they've been successful doing so. I also know marketers who have used video creation services with success too.
Remember…you are only being charged $5 for these services so there are limitations in what you can expect.
As with all successful things, it wasn't long before the Fiverr script (assuming they were the first) was cloned and similiar sites starting appearing all over the net. Of course this is good for us because we have many more choices…
Here's a short list of the sites I've discovered…some of them allowing services up to $100 or more. These sites can obviously expand your horizons a bit because more services can be offered for $100 than for $5.
and just recently I discovered two more:
Gigtask.com: which at the time of this posting was having a bit of difficulty showing on my browser…possibly it will be fixed when you get there. I know it exists because I was just there the other day 😉
Now I want to introduce you to:
TaskArmy.com…another freelancing site that is focused on web development, web design, copywriting, va's, translation etc. In other words…there are no "bizarre" or "funny" choices here.
This eliminates the fluff found on the other sites and offers services directly related to helping you succeed online.
From what I can tell after browsing the site is that services here can range up to $199.
They do have an escrow service but they have eliminated the bidding and waiting and simplified the process of outsourcing for many tasks that didn't really require jumping through hoops to get it done.
I personally think this is a great idea because some services are simple enough…but become difficult when you have to sign up at one of those bidding sites and fill out all that extra info.
You can get things done quickly and fairly on these sites and it makes outsourcing a lot more fun. These sites definitely service a high demand niche.
Each one of these sites has their own set of rules and restrictions so make sure you read the policies on each one…don't assume they are the same.
Most have small fees that are built right into the fee paid.
And now  I am going to list a recent bargain that I discovered OR SO i THOUGHT.

Anyone who has been working online for any amount of time will be familiar with Camtasia as the premier screencast and video production/editing software. This sells for $299 on their site.
I personally could not believe the price and so I bought a license and it is working properly. I assumed these licenses were legal (yeah I know…a bit naive and way too much trust in a site)…or this guy would easily be booted off this site and banned from using it.
I wanted to be right…but of course I was wrong…so be careful about what you order and be logical 😉
Update:
These  licenses turned out to be "cracked" code licenses…which will get you into Camtasia but you won't get updates.
I will not be partner to any action like this and have written to him about getting money back.
It's as all things in life…you get what you pay for and I've learned a valuable lesson…that these sites can lead into some bad lanes and you must use your logic sometimes to get past your excitement.
But…it will be interesting to follow up Taskarmy and how their resolution center handles this if the money isn't refunded by Sanjeev. So, all in all, it is another chapter for my book and it will be a test of  TaskArmy's integrity.
My job is to bring you these fun and money saving tips/sites…but it is up to you to check the validity of their offerings before you purchase. Write them and ask questions.
One may wonder why these people offer services so cheap. It's the perfect advertising platform as they are allowed to put their business links on their pages so they get traffic and possible new clients in exchange.
As the evolution of outsourcing continues to evolve we'll see things get simpler, easier to use and much more friendly.
This is outsourcing in the 21st Century 😉
Would love some comments from those who are using these sites or possibly you have purchased Camtasia using this link?

43 Responses to The Fever of "Fiverr"