If your desktop looks anything like mine, your icons have invaded your  space and eaten your whole desktop.  Furthermore, trying to organize these icons into some sort of system can be daunting at best.
Well, I have good news for you. Today I was introduced to a program called Stardock (stardock.com…click on 'fences') that will organize your icons into easily navigable 'fences' that you can customize with your own titles and needs.
With Stardock you have the option to rename these fences, give it your own design colors and move them around to suit your needs and tastes.  I implemented this program this morning and I love it!  Now my desktop is not splattered with icons spread across the screen but organized and easy to navigate when I want to find a file, program or website.
Watch the video above and see for yourself what it can do for your desktop.  The program is presently free to use so take advantage of that fact. Cut out your desktop confusion and create fences that will make your Internet life much more pleasant to navigate and you won't pull your hair out searching for that "lost among many…icon!"
Here's a screen shot of my own desktop (click it for a closer view)…cleaned up with Stardock fences. As you can see there are scroll bars (you can 'hide' these scroll bars, but I made mine visible for you to see) in each fence that allow you to scroll down to view your files and folders. Your clutter is gone and in its place are fences of your choice with all your icons tucked neatly inside. Just use the scroll bar to locate them.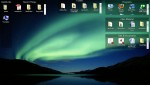 I am all for anything that makes my life easier and Stardock.com is my newest organizer! Check out the easy to follow video and get your own desktop organized.
Till next time…
EnJOY,
Kathy
13 Responses to Stardock.com Your Desktop Organizer