Thursday, September 30th, 2010 at 11:00 am
"Tim is Indiana Jones for the digital age. I've already used his advice to go spearfishing on remote islands and ski the best hidden slopes of Argentina. Simply put, do what he says and you can live like a millionaire."
-Albert Pope, Derivatives Trading, UBS World Headquarters
Anyone who has read "4 Hour Work Week" by Timothy Ferriss will appreciate why I've included a link to a chapter in his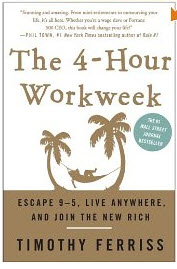 book with this post. If you have not already read this mind-expanding eye opener then an introduction by way of this chapter will be enough to have you hankering for more…I am sure of it.
For those not in the know, "4 Hour Work Week"  the first book written by Timothy Ferriss, was released in 2007 and is now sold into 35 languages after reaching number one on both the New York Times and Wall Street Journal Best Seller list.
But, that's not what this post is about…you can read all you want about Tim Ferriss and his accomplishments (and, there are many) on his own site…which I am going to link to in a moment ;)….
Point I want to make here is that there is a movement that  possibly originated or at least gained tremendous ground as it exploded out to the consciousness of the masses with the release of Tim's book…a whole new paradigm of thought about "lifestyle design."
In the book Tim Ferriss uses the acronym DEAL for the four main chapters. It stands for: Definition, Elimination, Automation, and Liberation. Read the rest of this entry