Friday, January 15th, 2010 at 2:34 pm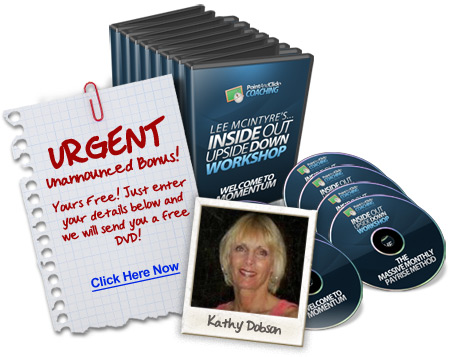 Wow, this has been a busy year so far! Thanks to a dear friend Dawn Kay  (who has awesome blog by the way: Dawn Kay's Internet Marketing Blog )  this fabulous course "Inside Out-Upside Down Workshop" by Lee McIntyre was brought to my attention. Lee is offering…for FREE…his entire workshop that most everyone there paid nearly $1000 to attend. He has bundled it up into video course that you can get absolutely free…the only cost to you is shipping which is $1. Most of us can afford $1 to gain access to this workshop that has the potential to turn your otherwise 'lifeless' Internet marketing business into a thriving channel of income for you.
Additionally, should you fall in love with Lee (ok…he's an awesome teacher) and the system he teaches on his videos you can sign up to take his ongoing coaching course. With this course you receive weekly lessons…all taught through easy  to follow and implement videos.
Internet marketing is a very hot topic and wannabee teachers are surfacing everywhere…. but only a handful of them really know how to teach and get their proven system/ ideas across to others.  Lee is one of those people. For those not familiar with Lee, his is a fascinating story of a burned out school teacher who rose to the top of the Internet marketing game in just a few years. Lee's background in teaching sets the table for his ability to teach Internet marketing so successfully. Furthermore, Lee's ability to motivate you into action is worth your time alone. Read the rest of this entry